I.T. Training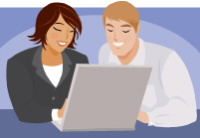 Nenya Web Soutions has over three years experience delivering I.T classroom training on the following topics:
Foundation level Windows OS usage

Microsoft Office Word

Microsoft Office Excel

Microsoft Office Powerpoint

Customer Relationship Management tools.
All training is delivered using blended learning and NLP techniques to enhance the learning experience.
Support items can be produced to compliment all training sessions.
For further details please complete the form on the Contact Us page.